RICHMOND, VA (January 6, 2020) — Divaris Real Estate, Inc. (DRE), announced the completion of a sale of commercial parcels in the city's Scott's Addition neighborhood for $1,800,000.
Sales Transaction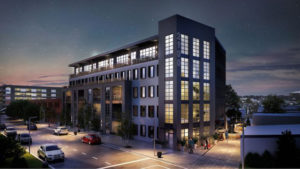 Capital Square Development, LLC purchased 21,700 square feet or approximately .5 acres located at 3001-3009 West Leigh Street in Richmond, Va, from Cash Properties.  Read Goode and Cheryle Toy represented the buyer in the transaction.
Capital Square 1031 Opportunity Zone Fune 1 is acquiring this site as part of its proposed three building complex.  Each building will be five stories with parking and commercial space on the first floor and approximately 50 apartments above in each building.   Groundbreaking is expected in the summer of 2020.
About Divaris Real Estate
Divaris Real Estate, Inc. (http://www.divaris.com) is headquartered in Virginia Beach, VA with offices in Newport News, Norfolk, Richmond and Roanoke, VA; Charlotte, NC; Washington, DC; and Beverly Hills, CA.  Divaris Real Estate and Divaris Property Management Corp. are divisions of The Divaris Group, an international real estate brokerage and property management company that currently manages and/or leases over 31 million square feet of prime office, retail and industrial space from New Jersey to Florida. Gerald S. Divaris is Chairman of the Board, and Michael B. Divaris is President of Divaris Real Estate, Inc.
Divaris Real Estate is a member of Realty Resources, (http://www.realtyresources.org/) a national group of independent retail property brokers and managers, covering 91 major markets throughout the U.S.  DRE is also the Virginia affiliate for The CORE Network, (http://www.corenetworkcre.org/) a national group of office and industrial brokers with affiliates throughout the U.S., Canada, Mexico, Asia and Europe. These organizations represent corporate and institutional clients, tenants and buyers in all aspects of leasing, development, management, sales and acquisitions.
###