VIRGINIA BEACH, VA – (May 7, 2020) Getting a new assignment to lease and manage a property is good news at any time.  In the second quarter of 2020 – during a global pandemic – its great news!  But the addition of 22 listings that total 1.3 million square feet, at this time, is nothing short of phenomenal!
That's exactly what Divaris Real Estate announced recently.  The assignment is for one of the largest, single-owner portfolios of Class A suburban office space in the Hampton Roads region. The mid-rise and single-story properties are spread across six major submarkets in Virginia Beach, Chesapeake and Hampton, Virginia.
The collection was built up through acquisitions and developments by Liberty Property Trust over a 15-year period.  When Liberty shifted its focus away from suburban office properties, it sold the portfolio in 2015 to Lingerfelt CommonWealth Partners for $100 million (according to CoStar).  At the time the buildings averaged 89.1 percent leased.  The buildings were sold once again in 2019.
These listings are distinctive and special. One in Chesapeake's Battlefield Boulevard corridor, Independence Place at 676 Independence Parkway, is LEED Gold certified.  Liberty III at 1317 Executive Boulevard is LEED Silver certified and was the first of its kind in the office market in 2007.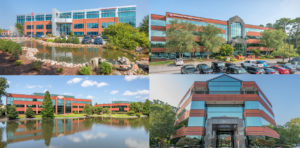 Four of the buildings, Liberty I-IV, are ideally situated between Chesapeake's Towne Place at Greenbrier and Summit Pointe, the new Dollar Tree headquarters complex.  They are in the center of this growing mixed-use area with excellent walkability to abundant surrounding retail options, future residential neighborhoods and hotels.  These buildings are perfect for large office users because of their 25,000-square-foot floors, expansive window lines, water views and high ratio of surface parking.
An example of the buildings' features in Virginia Beach's Lynnhaven corridor is Reflections I where the lobby, landscaping and courtyard were renovated in 2013.  Here, also, there is abundant parking and an onsite day porter, fitness facility, common conference room, a cafe in the park and a one-mile nature trail.  The building operation and energy management systems are Energy Star Certified.
In Hampton, an example of the listings is Lakefront Plaza.  It is in the South Campus of Hampton Roads Center, a beautifully landscaped, tranquil office park centrally located with immediate access to Interstate 64, NASA and Langley Air Force Base.  Just two miles south, Peninsula Town Center hosts a variety of restaurants, hotels, retail shops and other amenities with convenient access.  Also close by is Newport News/Williamsburg International Airport.
The largest properties in the new portfolio are Battlefield Technology Center I at 97,081 square feet and Independence Technology Center I at 96,807, both in Chesapeake.  The average occupancy across all the listings is approximately 91 percent.  Currently there are spaces available throughout the 22 buildings, ranging from 1,081 to 26,136 square feet.
The many notable companies that lease space in the portfolio include General Dynamics, Sutherland Global Services, Ferguson and Children's Hospital of the Kings Daughters.  Additional significant tenants are Wells Fargo, Merrill Lynch, Sentara, the US Government and Burns McDonnell Engineering that just expanded into 26,000 square feet in Chesapeake.
"Divaris was chosen over other companies who competed for this assignment because of our synergy and best-in-class management team," said Michael Divaris, president and chief operating officer.  The Divaris Real Estate leasing team of Brian Devlin, CCIM, Michael Divaris, Nicole Campbell and Jessica Underhill will handle the leasing of the properties.  The team brings to this assignment a combined 60 years of experience in commercial real estate.
Divaris Property Management Corp. is responsible for all aspects of the day-to-day property management of the buildings.  On the Virginia Peninsula, Denise Wollesen is working on the properties in Hampton and on the Southside of Hampton Roads, Carol Aubuchon and Amanda Decipulo will handled those in Chesapeake and Virginia Beach.   Combined, this property management team has over 50 years of experience.
"I am delighted to have this assignment as it gives us the opportunity to add product in three of the cities where we are actively working," said Divaris, "The ownership felt that we had the credentials that would best fit their overall objectives. We can provide complete focus to ensure the properties continue to receive first-class attention.  Also, we are able to offer good economic terms to incoming tenants."
The addition of these 22 buildings takes Divaris Real Estate's listings of office and mixed-use properties in Hampton Roads to 5.8 million square feet.  Throughout the company's entire Mid-Atlantic regional market, Divaris leases and/or manages over 11.2 million square feet of office and mixed-use space.
About Divaris Real Estate
Divaris Real Estate, Inc. (http://www.divaris.com) is headquartered in Virginia Beach, VA with offices in Newport News, Norfolk, Richmond and Roanoke, VA; Charlotte, NC; Washington, DC and Beverly Hills, CA.  Divaris Real Estate and Divaris Property Management Corp. are divisions of The Divaris Group, an international real estate brokerage and property management company that currently manages, sells and/or leases approximately 30 million square feet of prime office, retail and industrial space from New Jersey to Florida. Gerald S. Divaris is Chairman of the Board, and Michael B. Divaris is President and Chief Operating Officer of Divaris Real Estate, Inc.
Divaris Real Estate is a member of Realty Resources, (http://www.realtyresources.org/) a national group of independent retail property brokers and managers, covering 91 major markets throughout the U.S.  DRE is also the Virginia affiliate for The CORE Network, (http://www.corenetworkcre.org/) a national group of office and industrial brokers with affiliates throughout the U.S., Canada, Mexico, Asia and Europe. These organizations represent corporate and institutional clients, tenants and buyers in all aspects of leasing, development, management, sales and acquisitions.
###