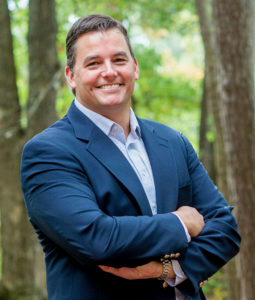 VIRGINIA BEACH, VIRGINIA (April 23, 2020) – Divaris Real Estate, Inc. (DRE) announces that Brian Devlin, CCIM, has rejoined the company in the position of senior vice president of office leasing and investment sales for Divaris Real Estate in its Virginia Beach corporate headquarters.  Primarily, he will be responsible for the leasing of a 22-building portfolio of office and industrial properties in Hampton, Chesapeake and Virginia Beach for an out-of-state investment group.  The buildings total over 1.3 million square feet.
Devlin previously held the position of senior vice president at Commonwealth Commercial Partners in Norfolk.  Prior to that, he was director of leasing for Lingerfelt CommonWealth Partners where he handled the leasing and marketing of 22 buildings totaling 1.3 million square feet of Class A office space in the Hampton Roads market.
He has also held the position of senior director of leasing and development for Liberty Property Trust for almost 13 years.   He was responsible for leasing and marketing 1.8 million square feet of Class A office and industrial properties.  Devlin also identified acquisition and disposition opportunities, site location and development opportunities for the $8.8 billion real estate investment trust that owns 101 million square feet of industrial and office space throughout the U.S. and United Kingdom, as of March 2014.
Devlin began his career as an associate in the office leasing and sales division of Divaris Real Estate in 1999-2002.  He represented both landlords/owners and tenants/buyers in real estate transactions in Hampton Roads.
He is a Certified Commercial Investment Member (CCIM) since 2010.  Also, Devlin is a past executive committee member of E.V. Williams Center for Real Estate and Economic Development at Old Dominion University (CREED) and a member of Hampton Roads Association for Commercial Real Estate (HRACRE).
He holds a Bachelor of Science degree, cum laude, from Old Dominion University.   A lifetime resident of Southeast Virginia, Devlin attended Cape Henry Collegiate High School, class of 1990.
About Divaris Real Estate
Divaris Real Estate, Inc. (http://www.divaris.com) is headquartered in Virginia Beach, VA with offices in Newport News, Norfolk, Richmond and Roanoke, VA; Charlotte, NC; Beverly Hills, CA; and Washington, DC.  Divaris Real Estate and Divaris Property Management Corp. are divisions of The Divaris Group, an international real estate brokerage and property management company that currently manages, sells and/or leases approximately 30 million square feet of prime office, retail and industrial space from New Jersey to Florida. Gerald S. Divaris is Chairman of the Board, and Michael B. Divaris is President and Chief Operating Officer of Divaris Real Estate, Inc.
Divaris Real Estate is a member of Realty Resources, (http://www.realtyresources.org/) a national group of independent retail property brokers and managers, covering 91 major markets throughout the U.S.  DRE is also the Virginia affiliate for The CORE Network, (http://www.corenetworkcre.org/) a national group of office and industrial brokers with affiliates throughout the U.S., Canada, Mexico, Asia and Europe. These organizations represent corporate and institutional clients, tenants and buyers in all aspects of leasing, development, management, sales and acquisitions.
###