CHARLESTON, SC (November 3, 2020) Divaris Real Estate, Inc. (DRE), announced the addition of a mixed-use center to the portfolio of properties that the company manages.  The office and retail space in Nexton Square is comprised of 127,216 square feet located at 801 Nexton Square Drive in Summerville, SC.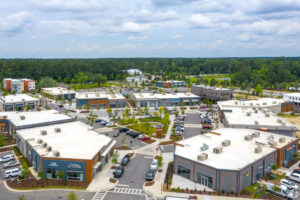 Nexton Square is a new open-air lifestyle center in the greater Charleston, South Carolina Metropolitan Statistical Area. Located at the entrance to a new 4,500 acre master-planned community, Nexton Square serves as the retail gateway to over 10,000 new single-family and multifamily residential units with plans for up to 148,000 square feet of space for local retailers, restaurants, and service providers. Centrally located between the Boeing production facility and the new Volvo assembly plant, the Summerville submarket sits squarely along the path of growth in the region.
Darcy Steinbrecher, senior property manager of Divaris Property Management is the property manager for the commercial space in Nexton Square.
Retail tenants in the property include:  Wild Birds Unlimited, Summerhouse Furniture, Nelson Wine and Spirits, Bicycle Shoppe, Simple to Sublime, Bey + Eloise, Tweedle Beedle, Dolittle's, Art on the Square, Charleston Glow, BKeD, and Sportsbook
Restaurant tenants include: Hall's Chophouse, Tropical Smoothie, Fuji Sushi, Poogan's Southern Kitchen, Vicious Biscuit, Bad Daddy's Burgers, Taco Boy, D'Al's Pizza, Wok N Roll, Ever Creamery, and The CODfather, Proper Fish & Chips.
Office tenants in Nexton Square include: Crescent Moon Orthodontics, Trident Dentistry, Realty One Group, Holliday Ingram Law Firm, Southern Trust Mortgage Company, Optical Impressions, Southern First Bank, Brighton Animal Hospital, and ATI Physical Therapy.
Services and health tenants include: 3 Keys Yoga, Title Boxing, Bold Fitness, Gymnastics Academy, Hand Institute of Charleston, Charleston Premier Cleaners, and Diamond Nails.
About Divaris Real Estate
Divaris Real Estate, Inc. (http://www.divaris.com) is headquartered in Virginia Beach, VA with offices in Newport News, Norfolk, Richmond and Roanoke, VA; Charlotte, NC; Washington, DC and Beverly Hills, CA.  Divaris Real Estate and Divaris Property Management Corp. are divisions of The Divaris Group, an international real estate brokerage and property management company that currently manages, sells and/or leases approximately 30 million square feet of prime office, retail and industrial space from New Jersey to Florida. Gerald S. Divaris is Chairman of the Board, and Michael B. Divaris is President of Divaris Real Estate, Inc.
Divaris Real Estate is a member of Realty Resources, (http://www.realtyresources.org/) a national group of independent retail property brokers and managers, covering 91 major markets throughout the U.S.  DRE is also the Virginia affiliate for The CORE Network, (http://www.corenetworkcre.org/) a national group of office and industrial brokers with affiliates throughout the U.S., Canada, Mexico, Asia and Europe. These organizations represent corporate and institutional clients, tenants and buyers in all aspects of leasing, development, management, sales and acquisitions.
###