VIRGINIA BEACH, VA (March 3, 2021) — Divaris Real Estate, Inc. (DRE) announces the execution of a lease for new medical office space in Norfolk.  CVP Physicians leased 46,154 square feet of office space located at 200 Corporate Blvd.  The building will be a build-to-suit, two-story building within Riverside Corporate Center office park. Vivian Turok and Jason Oliver represented the tenant in the lease negotiations. The developer is Chris Sanders with locally based Robinson Development Group.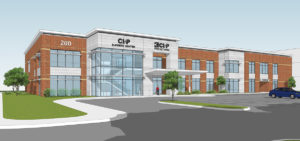 Currently under construction, the building will open in the third quarter of 2021 and will house CVP Surgery Center, an accredited eye surgery center and the central business operation for CVP's Mid-Atlantic practices. "This standalone facility marks a significant expansion of CVP's regional presence," said Karen Spencer, senior vice president of operations for CVP.
CVP Physicians is a premier network of ophthalmology practices providing world-class eyecare in Virginia, Ohio, Kentucky and Indiana. The network is comprised of seven practices in the Midwest and three practices in the Mid-Atlantic. Locally, Virginia Eye Consultants (VEC) joined the CVP network in 2019, followed by Virginia Beach Eye Center in 2020 and, most recently, Tidewater Eye Centers in 2021. In a press release announcing the Tidewater Eye partnership, CVP CEO, Clyde Bell, remarked, "With the combined presence and experience of Virginia Eye Consultants, Virginia Beach Eye Center and Tidewater Eye Centers now under the CVP banner, this represents a significant eye care consolidation in the Coastal Virginia region."
Virginia Eye Consultants, Virginia Beach Eye Center and Tidewater Eye Centers, collectively known as CVP Physicians MidAtlantic, have been providing state-of-the-art, world class eyecare to the Hampton Roads community for over 50 years. As the region's largest and highest volume multi-subspecialty ophthalmic practice, they are among the most recognized in the nation for clinical expertise and surgical outcomes.
About Divaris Real Estate
Divaris Real Estate, Inc. (http://www.divaris.com/) is headquartered in Virginia Beach, VA with offices in Newport News, Norfolk, Richmond and Roanoke, VA; Charlotte, NC; Beverly Hills, CA; and Washington, DC.  Divaris Real Estate and Divaris Property Management Corp. are divisions of The Divaris Group, an international real estate brokerage and property management company that currently manages, sells and/or leases approximately 31 million square feet of prime office, retail and industrial space from New Jersey to Florida. Gerald S. Divaris is Chairman of the Board, and Michael B. Divaris is President of Divaris Real Estate, Inc.
Divaris Real Estate is a member of Realty Resources, (http://www.realtyresources.org/) a national group of independent retail property brokers and managers, covering 91 major markets throughout the U.S.  DRE is also the Virginia affiliate for The CORE Network, (http://www.corenetworkcre.org/) a national group of office and industrial brokers with affiliates throughout the U.S., Canada, Mexico, Asia and Europe. These organizations represent corporate and institutional clients, tenants and buyers in all aspects of leasing, development, management, sales and acquisitions.
###