VIRGINIA BEACH, VA (June 24, 2020) — Divaris Real Estate, Inc. (DRE) announces the Arnold B. McKinnon, Norfolk Southern headquarters has been sold.  The 22-story 310,745-square-foot building, located at 3 Commercial Place in Norfolk, Va, has been purchased by a joint-venture partnership of TowneBank and the Children's Hospital of the King's Daughters (CHKD).  The iconic blue office tower housed Norfolk Southern Railroad's headquarters since 1988.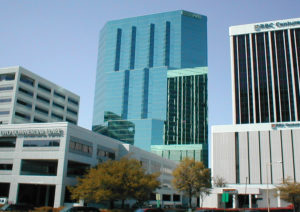 TowneBank and CHKD will each occupy ten floors in the building. TowneBank will house the Towne Financial Service Group in the building, which are currently located in third-party leased properties in South Hampton Roads.  Nearly 900 people in total will eventually work in the tower with about 400 from TowneBank and 475 from CHKD.  The information services, patient financial services, human resources and health system administration employees of CHKD will relocate to 3 Commercial Place.
As part of the transaction, the joint-venture partnership purchased the Commercial Place Garage, located at 520 East Main St., containing 744 parking spaces and connected to the office tower by a sky bridge.  The parking garage has retail tenants on the first floor.
Work will begin on the renovation of select floors, not occupied by Norfolk Southern. WM Jordan has been appointed as the General Contractor on the TowneBank renovations, Creative Development Partners (CDP) will project manage the renovations on behalf of TowneBank.  In 2017, CDP project managed renovations in 3 Commercial Place on behalf of Norfolk Southern.
Norfolk Southern personnel will continue to occupy parts of the building for the next 18 months as they transition to their new offices in Atlanta.
Gerald Divaris, Michael Divaris and Jason Oliver represented TowneBank in the purchase of the building. Gayle Bartlett of Divaris Property Management Corp. will continue to manage the building for TowneBank and CHKD as well as the parking garage and retail on the first floor of the garage.   Divaris has handled the leasing and management of the building since 2009.
About Divaris Real Estate
Divaris Real Estate, Inc. (http://www.divaris.com/) is headquartered in Virginia Beach, VA with offices in Newport News, Norfolk, Richmond and Roanoke, VA; Charlotte and Raleigh, NC; Charleston, SC; Beverly Hills, CA; and Washington, DC.  Divaris Real Estate and Divaris Property Management Corp. are divisions of The Divaris Group, an international real estate brokerage and property management company that currently manages, sells and/or leases approximately 30 million square feet of prime office, retail and industrial space from New Jersey to Florida. Gerald S. Divaris is Chairman of the Board, and Michael B. Divaris is President and chief operating officer of Divaris Real Estate, Inc.
Divaris Real Estate is a member of Realty Resources, (http://www.realtyresources.org/) a national group of independent retail property brokers and managers, covering 91 major markets throughout the U.S.  DRE is also the Virginia affiliate for The CORE Network, (http://www.corenetworkcre.org/) a national group of office and industrial brokers with affiliates throughout the U.S., Canada, Mexico, Asia and Europe. These organizations represent corporate and institutional clients, tenants and buyers in all aspects of leasing, development, management, sales and acquisitions.
###