CHARLOTTE, NC (March 27, 2020) – Divaris Real Estate, Inc. (DRE), announced the renewal of a lease for retail space in Durham, North Carolina.
Lease Renewal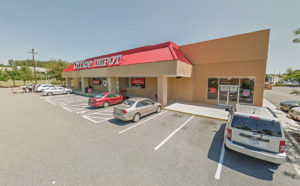 Office Depot renewed its lease for 27,600 square feet of retail space in the Divaris-leased and -managed South Square Shopping Center located at 4001 Chapel Hill Blvd. in Durham, NC.   Charles Neil and Diana Teitsma represented the landlord in the lease negotiations.  Other tenants in South Square include the highest grossing Super Target in the Carolinas, Petco, Ross Dress for Less, Sam's Club, Wells Fargo and Mattress Warehouse.
About Divaris Real Estate
Divaris Real Estate, Inc. (http://www.divaris.com/) is headquartered in Virginia Beach, VA with offices in Newport News, Norfolk, Richmond and Roanoke, VA; Charlotte, NC; Beverly Hills, CA; and Washington, DC.  Divaris Real Estate and Divaris Property Management Corp. are divisions of The Divaris Group, an international real estate brokerage and property management company that currently manages, sells and/or leases approximately 30 million square feet of prime office, retail and industrial space from New Jersey to Florida. Gerald S. Divaris is Chairman of the Board, and Michael B. Divaris is President of Divaris Real Estate, Inc.
Divaris Real Estate is a member of Realty Resources, (http://www.realtyresources.org/) a national group of independent retail property brokers and managers, covering 91 major markets throughout the U.S.  DRE is also the Virginia affiliate for The CORE Network, (http://www.corenetworkcre.org/) a national group of office and industrial brokers with affiliates throughout the U.S., Canada, Mexico, Asia and Europe. These organizations represent corporate and institutional clients, tenants and buyers in all aspects of leasing, development, management, sales and acquisitions.
###